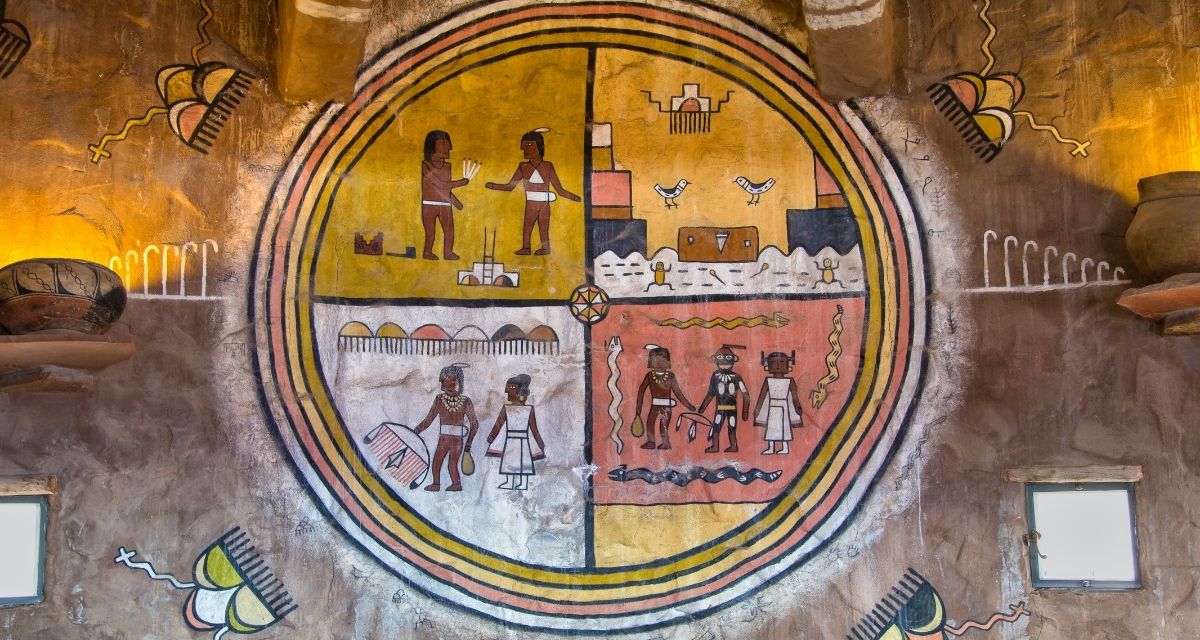 History of the Hopi Indians
While we have been focusing a lot on the Navajo Nation, we also wanted to take some time to tell the story of the Hopi Indian Tribe. Their history in Arizona traces back to more than 2,000 years, but their cultural history goes back thousands of years. According to Hopi history, they migrated to northern Arizona from what is now South America. The tribe's history tells stories of a great flood and other events dating to ancient times, making the Hopi one of the oldest modern cultures in documented history. Their name, "Hopi", Hopi, short for Hopituh Shi-nu-mu, means, "The Peaceful Little Ones" and that's how they live their life. The Hopi people trace their history in Arizona to more than 2,000 years, but their history as a people goes back many more thousands of years.
The Hopi Beginning
From what history tells us, the Hopi started as a hunting and gathering group that was divided into numerous small bands that lived in pit houses. Around the year 700 A.D., there was a shift where the Hopi leaned into agriculture and started growing blue ears of corn using runoff from the mesas. This is when many of the small bands began to come together to form larger villages atop the mesas, the first being Antelope Mesa, which is east of present-day Keams Canyon in Arizona. There was a massive drought in the late 1200s, which ended up forcing 36 out of 47 villages on the Hopi mesas to be abandoned. Following that event, the 11 remaining villages grew in size and three new villages were created in Northeastern Arizona, about 70 miles from present-day Flagstaff. While the Hopi located their villages on mesas for defensive purposes, the land surrounding the mesas was also used by the tribe, dividing it between families and utilizing common areas for agriculture.
Hopi Government
The Hopi Tribal Council was created on December 19, 1936, along with the adoption of the Hopi Constitution and By-Laws. According to their constitution, the Tribal Council has the power and authority to represent and speak for the Hopi Tribe in all matters for the welfare of the Tribe, and to negotiate with federal, state, and local governments, and with the councils or governments of other tribes. There are three "mesas" that each have their own villages within them. Throughout the Hopi reservation, every village is an autonomous government. However, the Tribal Council determines the law for the tribe and sets policies to oversee the tribal business.
Although they are neighbors, the Navajo, who were under pressure from the Europeans, began moving into Hopi territory in the late 1600s. They would appropriate Hopi rangeland to graze their livestock, cultivate farm fields, and use water resources, in addition to conducting frequent raids against Hopi villages. The peaceful Hopi were forced to battle for their survival in a long period of fighting that would last until 1824 when the Hopi lands were given to the Mexican government. Even though they no longer had to face the Spanish, the Navajo continued to attack the Hopi until they were forced onto reservations in 1864. In 1870 the U.S. government laid claim to the lands of the Hopi and once again, the Hopi were forced to fight to save their lands until finally they were forced onto the reservation in Black Mesa in 1882, where most of them still live today.
Hopi Agriculture Efforts
The Hopi Reservation is located in northeastern Arizona and occupies parts of both Navajo and Coconino counties and is approximately 1,542,306 acres. Having inhabited this high and dry area for several hundred years, the Hopi have developed an agriculture practice called, "dry farming." Instead of plowing their fields, Hopi farmers place "windbreakers" in the fields at selected intervals to help retain soil, snow, and moisture. In addition, they have also perfected techniques to plant seeds in arid, dry fields. From their years of experience, they successfully raise corn, beans, squash, melons, and other crops in a landscape that to everyone else, appears inhospitable to farming.
Hopi Ranches
Located just east of Flagstaff and south of the Hopi Reservation, the Hopi Tribe owns four ranches. One of them being the historic and infamous, 26 Bar Ranch. Known for their quality Hereford cattle, the 26 Bar got its start as the Milky Way Ranch back in the 1940s in Eagar, Arizona. With an iconic big white barn, the ranch is now a local landmark and part of the Hopi 3 Canyons Ranches. In 1964 the ranch became the 26 Bar Ranch and was acquired by John Wayne. Then in 1997, the Hopi Indian Tribe purchased the working ranch after claims that the land originally belonged to their tribe. With evidence of rock art along the Little Colorado River, their claim was correct and the ranch eventually was relinquished.
About CKP Insurance
This post is brought to you by CKP Insurance. CKP Insurance provides Pasture, Rangeland, Forage Insurance to ranches across the county. PRF was designed to help protect your operation from the risks of forage losses that are produced for grazing or harvested for hay, resulting in increased costs for feed. With CKP Insurance on your side, they will be dedicated to providing you with insight, information, and alternative-risk solutions that are custom-fitted to your business and personal needs. They can tailor a plan for you using specific data in your region and even select options acre by acre. Their expertly trained professionals will walk you through a range of options using risk-assessment tools that will take the pressure off when there is a drought in your area. You can see what they've been able to accomplish with the Navajo Nation here.
The CKP Promise
CKP Insurance will…
conduct a one-on-one personal consultation to go over your specific ranch or farming operation needs.
provide an honest assessment and discourage you from purchasing unnecessary coverage.
keep you informed throughout the year as to how the program is performing for you and advise on other opportunities to maximize your cost savings.