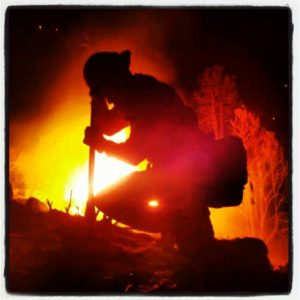 This summer, news reports were filled with stories and photos of wildfires in the West, including in California, Washington and Oregon, and the devastation caused by these blazes.
In addition to endangering lives, homes, property and pets in the path of wildfire, these infernos also produced air quality issues for these regions and beyond. According to an article in the New York Times, summer wildfires generated plumes of smoke that spread across large regions of the country.
In early September, the air quality in the Pacific Northwest was temporarily the worst of any air quality being observed in the world. This was according to Berkeley Earth, an organization that monitors the climate. Both Washington and California declared states of emergency as skies browned and air filled with smoke. Regions of Oregon saw snowing ash.
Wildland firefighters risk their lives throughout the season to battle these and other wildfires. In October, Papa John's teams up with Cowboy Lifestyle Network to thank wildland firefighters by donating to the Wildland Firefighter Foundation (WFF). Use the code WFF40 when ordering online, and you'll receive 40 percent off any regularly priced menu item. Papa John's will donate 10 percent of your discounted purchase price to WFF. Not only do you get a great deal on a great pizza, you can also help a worthy cause! This offer is valid at limited cities in Arizona, Oregon, Wyoming, Colorado, Illinois, Missouri & Kansas through 10/31/17.
Based in Boise, Idaho, WFF provides aid to firefighters injured while battling grass or forest fires throughout the West. Support could include assistance with travel costs to bring family members to the bedside of an injured firefighter, or help with replacing lost wages during a firefighter's medical leave. Family members including children also receive support through an annual event which brings together families of fallen or injured firefighters.
Don't think just buying a pizza or a tweet is gonna cut it.
Hey, Cowboy! Cowboy Lifestyle Network & Papa John's challenges you to put your money where your heart is!
CLN Fans get things done. Our fans are the best & we are proud of you guys. Your hearts are the best parts of America.
CLICK below and donate directly to the Wildland Firefighters Foundation for saving our collective butts during the 2017 Fire Season!
You can make a difference – please tell friends about the WFF.
This WFF is supported by individuals. They do not receive government money – they exist because thousands of you choose to support each other.
Almost everyone can afford to donate just $1 per week for a year. That is $52 for an annual donation. Challenge your buddies, friends, family, and communities to join in.
CLN Community & Event Sponsor