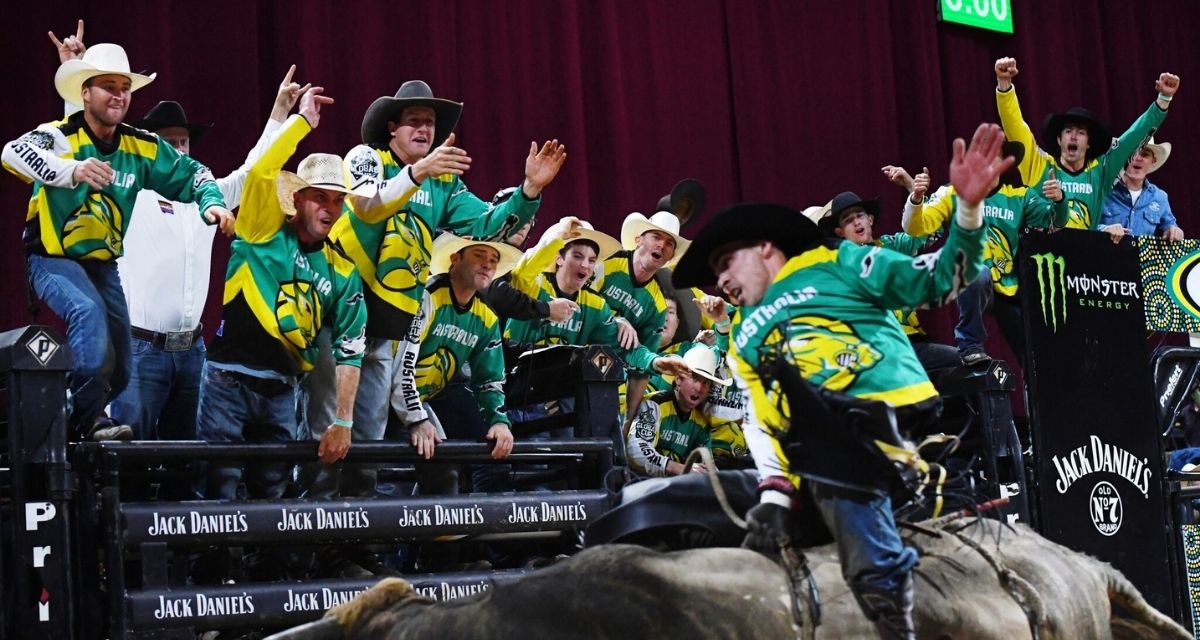 The PBR Team League Series kicked off last night at Texas Live. Essentially, what we saw last night were the first five rounds of the draft to pick the first set of riders for each 8 of the inaugural PBR teams. Here is the draft order that was determined by a lottery held on Jan. 7 in New York City. The 2022 draft order is:
1. Austin Gamblers
2. Nashville Stampede
3. Ariat Texas Rattlers
4. Kansas City Outlaws
5. Missouri Thunder
6. Arizona Ridge Riders
7. Carolina Cowboys
8. Oklahoma Freedom
Additionally, each team took three minutes per selection in Rounds 1-2 and then two minutes per selection in Rounds 3-5. There are 40 total draft slots that are divided into each round (1-8, 9-16, etc). The teams rotated in a snake format to keep it fair and were able to negotiate trades at any time before and during the draft and can trade/swap draft picks or current riders to whom they hold the rights. We will post the draft updates below!
And in honor of the Team Series kicking off, I want to highlight an interview I did with Senior Vice President of the PBR, Chad Blankenship, from the summer issue of Cowboy Lifestyle Magazine.
Krysta: Can you tell me a little bit about yourself and your experience in the western/bull riding industry? 
Chad: I joined PBR six years ago, as the next step in a two-decade career in sports, media, and marketing. PBR is my first foray specifically into the Western industry and Western Sports. 
Krysta: Can you explain what went into creating this new PBR Team Series and what it means to the sport of bull riding? 
Chad: For about a decade, we've really been thinking about the opportunity to create a team-based bull riding league, how it might work, and how the riders might respond to competing in a team environment, which is obviously atypical for Western Sports and bull riding, and how fans would respond to it. We've produced a handful of team-based events to test and learn with the competition and live event formats. The most prominent example is the nation-versus-nation PBR Global Cup, which PBR launched in 2018 in Edmonton, Canada. We then hosted the Global Cup in Sydney, Australia, and AT&T Stadium in Arlington, Texas for several years including this coming March. 
Another team-based event that we've held in recent history is Cowboys For a Cause. That's been a military charity event that we've staged twice on the flight deck of the USS Lexington – an aircraft carrier in Corpus Christi, Texas – and televised nationally. Through all these events, we've learned a few things. First of all, when it comes to team-based bull riding, the riders love it, because it's a different kind of challenge for them. We still have cowboy athletes, matching up against a big, powerful bovine athlete; but what the cowboys tell us when they participate in the team events is that being part of a team gives them a broader sense of purpose. With this new team series, they're not just riding for themselves, their family, and their fans, they're really riding for each other. I think part of that is the camaraderie that the guys report with the team. A little bit of it also, I think for some of the riders, is having a coach. Then there's also a dynamic with the team format in which bulls are drawn to the teams and then the coaches and riders decide who's going to get on what versus a blind draw, which is what we typically see in individual bull riding events now. That helps, too, because bull riders have an opportunity to match up better with a bull that fits their riding style. 
Krysta: Can you dive a little deeper into the mission of this new League? 
Chad: When it comes to growing the bull riding ecosystem, a big part of our mission as a league, and as a business, is to grow the sport, to create new and additional earning opportunities for the riders, and to continue to stoke fandom across the country and other parts of the world for bull riding. The PBR Team Series is a significant catalyst toward the mission. Historically there is a bit of an off-season for PBR from June to mid-August. We sanction plenty of really great PBR events in that window, but in terms of the PBR premier series and our owned and operated events, we typically take a summer hiatus.  To create a continuous schedule for our riders and fans we've restructured the Unleash the Beast premier series season, which will now run from November to May in a typical season without a two and a half month break in the summer. That will better serve our fans, allowing us to create a dramatic crescendo in the Unleash the Beast culminating in a terrific World Finals in Fort Worth in May, and then move right into the PBR Teams season.
Krysta: We know that the riders picked for each team will be done through a lottery draft, but are there any conditions in which a cowboy can apply for the draft? Should we anticipate some pretty big names appearing on these teams? 
Chad: PBR Team Series is designed to broadly create opportunities for more bull riders within the PBR and rodeo ecosystems. PBR Teams is a shorter season than Unleash the Beast. It's 10 regular season events plus a Playoff in Las Vegas, so 11 total events. It will span July to the first weekend of November. In order to have the potential to compete on a team, a rider has to have either a PBR member card or a PBR Draft card; that provides the opportunity to participate in the draft. Anybody who wants to participate in the 2023 season has to declare by May 6th and then we'll have the initial draft on Monday, May 23, which is the day after our PBR World Finals. 
There will be a multi-round primary draft and then a few days later,  a supplemental draft for Team GMs and Coaches to finalize their rosters of 7 core riders. In order to participate in the Primary Draft, bull riders must declare that they are available for all 11 events in the series. The Supplemental Draft creates an opportunity for bull riders who aren't available for all 11; these riders can declare eligibility for a partial season, the minimum requirement is six regular-season events plus the playoffs. That was specifically designed to create an opportunity for a rider who wants to participate in Teams but can make only a partial commitment. We anticipate that we're going to have more bull riders from the rodeo ranks, who choose to participate in PBR Teams because it's a smaller commitment in terms of the calendar year. This opportunity for all bull riders to compete in PBR Teams should also drive the interest of an even larger fan base.
Krysta: The eight founding teams are backed by some pretty big players and not just companies in the western industry, what does it mean to be bringing in a variety of sponsors to the sport of bull riding? 
Chad: In our inaugural season, the ownership groups that we've assembled are incredibly validating to Western Sports and bull riding specifically. If you look across our ownership groups, not only are there a couple of established and new players in the Western Sports space but all major league sports are also represented.  Our Team owners and operators include successful sports leaders in the NFL Pittsburgh Steelers, MLB Oakland A's, NBA Knicks, MLS Earthquakes and NYC FC, EPL Manchester City, and NASCAR among others.  Our owners are also successful operators in western sports and lifestyle including The American, NBHA, Road to the Horse, Better Barrel Races, and Western Horseman magazine among others.
Krysta: What does the future look like for the PBR Team Series?
Chad: The sky's the limit. As we've tested our trial events with a team format, it's proved to be incredibly engaging and fun for fans and bull riders alike. Sponsors also love the Team format. Right now we've assembled such a compelling collection of owners and team operators, we feel great about starting with eight teams and eleven events. We're also really leaning into the opportunity to stoke local fandom. For the first time ever, fans have a rooting interest not only for their favorite rider, but their entire hometown team. That's very unique to Western Sports and bull riding, and we want to lean into that opportunity to really get fans excited about flying the flag, literally and figuratively, for their home team. 
Krysta: Do you have any closing thoughts?
Chad: From an athlete perspective, for the first time ever, bull riders will work on a consistent basis with coaches. This is a game-changer for the riders and industry overall. While we do see some Western Sports athletes absolutely seek professional training and coaching, it isn't a standard within Western Sports. This is going to establish a new standard for athlete development. In the inaugural season, all the coaches have highly regarded bull riding backgrounds. I think a day will come in the not too distant future, where just like in other team sports, we'll also see a really effective coach who didn't necessarily compete at the elite level in bull riding yet is incredibly effective. I look forward to that progression in our sport because it will demonstrate that we've grown to a new level. Some of the teams have already committed to investing in training, recovery, and nutrition to further athlete development. Ultimately, it's a huge opportunity for the riders. Each team is going to have seven primary roster positions but they're also going to have three practice positions. Most of the riders I've talked with have mentioned that being part of a coached team is one of the things they're most excited about, in addition to the new earning opportunities. This really is a game-changer for the sport of bull riding and we are tremendously excited about the future. 
PBR Team Roster Updates
Carolina Cowboys
Coach: Jerome Davis
Riders: Daylon Swearingen, Mason Taylor, Boudreaux Campbell, Ramon De Lima, Cannon Cravens
Oklahoma Freedom
Coach: Cord McCoy
Riders: Eli Vastbinder, Derek Kolbaba, Chase Outlaw, Briggs Madsen, Caden Bunch
Austin Gamblers
Coach: Michael Gaffney
Riders: Jose Vitor Leme, Austin Richardson, Lucas Divino, Claudio Montanha Jr., Conner Halverson
Kansas City Outlaws
Coach: J.W. Hart
Riders: Dalton Kasel, Kyler Oliver, Rafael Dos Santos, Bob Mitchell, Tate Pollmeier
Texas Rattlers
Coach: Cody Lambert
Riders: Joao Ricardo Vieira, Cody Jesus, Brady Oleson, Brady Fielder, JC Mortensen
Arizona Ridge Riders
Coaches: Colby Yates and Paulo Crimber
Riders: Luciano Castro, Mauricio Moreira, Eduardo Aparecido, Chase Dougherty, Marco Eguchi
Nashville Stampede
Coach: Justin McBride
Riders: Kaique Pacheco, Dener Barbosa, Ryan Dirteater, Manoelita de Souza, Joao Lucas
Missouri Thunder
Coaches: Luke Snyder, Ross Coleman
Riders: Colten Fritzlan, Clayton Sellars, Cody Teel, Andrew Alvidrez, Jesse Petri
For all of the updates on team rosters and upcoming Team Series events, please visit PBR.com
CLN Community & Event Sponsor