Vicki Minor, influenced by her love of the firefighting community in Boise, wanted to start providing supplies to rural command posts manned by Wildland Firefighters. She was inspired by the Vietnam Wall, and also dreamed of a memorial that might serve as a location for wildland firefighters to honor lost comrades and help surviving loved ones heal. Her efforts progressed to establishing the Wildland Firefighter Foundation, which today, provides emergency services internationally to assist the families of firefighters injured or lost in the line of duty.
The Wildland Firefighter Foundation
Firefighters across the country commonly suffer during burnovers, helicopter or tanker crashes or other types of vehicle accidents. Injury survivors and the families of deceased firefighters must then endure substantial financial loss due to delayed benefits along with the trauma. The Wildland Firefighter Foundation offers financial support to these heroes and their families.
Other benefits provided by the organization include counseling for family members, holiday sponsorships for families having children and travel expenses when families desire attending WFF Family Days and Firefighter Weekend recognition programs and survivor events. The organization offers public education concerning wildfires and promotes firefighting safety at fire camps.
Coors Banquet Donations
Beginning in 2014, MolsonCoors helped raise funds for the foundation and spread the word through the Protect Our West POW campaign. Coors was able to raise and donated $250,000 in 2014. In 2015, from May through September, the company vows to donate $0.25 to the Wildland Firefighter Foundation for every case of Coors Banquet purchased.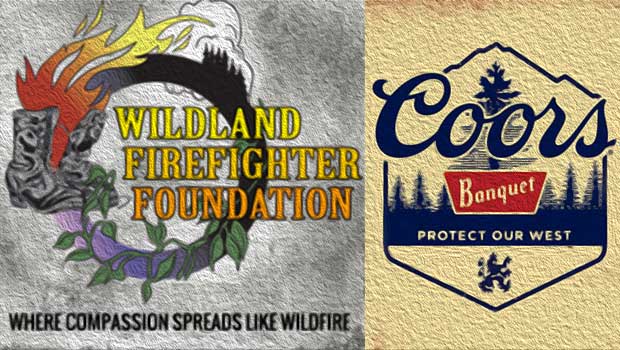 The 52 Club
Dave Hannibal came up with the idea of the 52 Club in 2002 when five firefighters were lost on their way to battling the Hayman Fire. He suggested that volunteers might help support the WFF and the Protect Our West POW campaign by agreeing to donate one dollar for every week of the year. The 52 Club came into existence and today welcomes anyone desiring to support the foundation that has provided nearly two million dollars to firefighters and their families.
The WFF strives to bring community recognition to firefighters. In addition to having walls of fame and memorials at the Wildland Firefighter Foundation headquarters, a cornerstone memorial was erected at the Boise Airport. The original was transported to Prescott, Arizona, to honor 19 members of a crew that lost their lives in 2013. However, recently a new memorial was presented and dedicated to local firefighters.
CLN Community & Event Sponsor