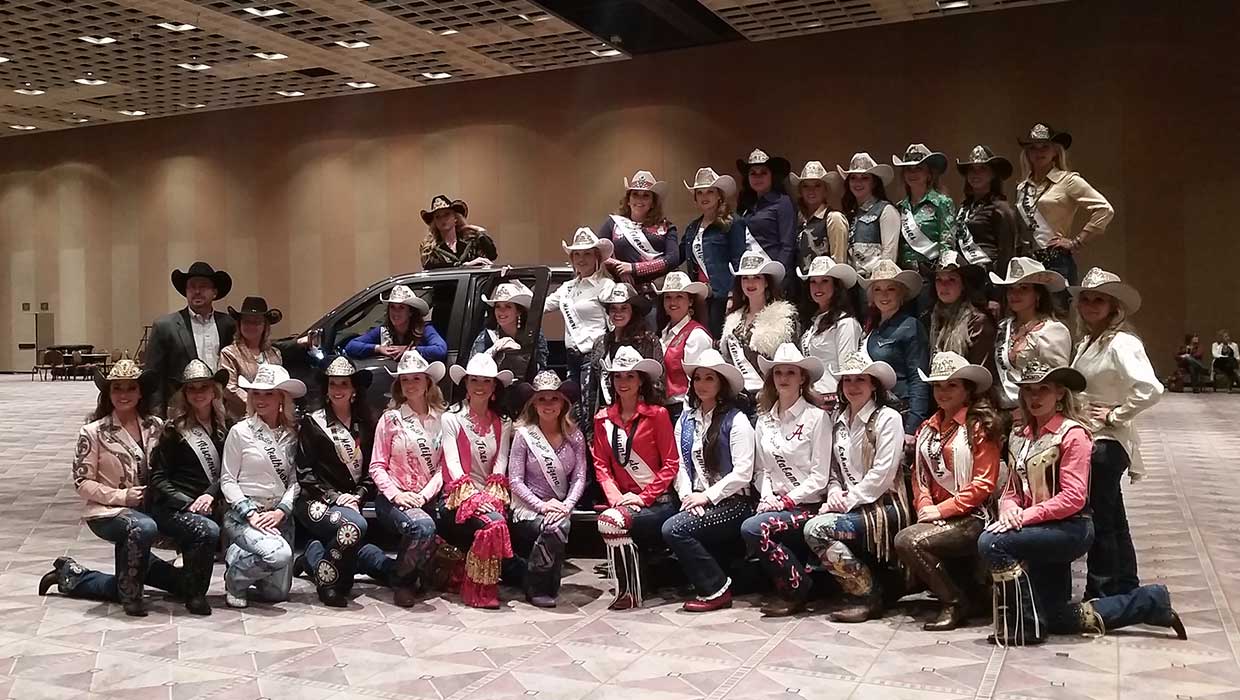 By: Morgan Smith and Gretchen Kirchmann
The Miss Rodeo American pageant has official begun for 2015. Wow, what a way to start out the pageant with a busy first day. The state titleholders were put right to work on Sunday November 30, 2014 with check-in, pageant orientation, media interviews and then a long day of trying on fashion show outfits and rehearsals. The first day concluded with the RAM Cowgirl Kickoff Party at the MGM. An energetic group of young ladies were eager for the pageant to begin but also glad for the relaxed atmosphere to spend time with her families and socialize one last time.
Task: Design a pair of Wrangler jeans to represent your state
The contestants were put to the task of decorating a pair of Wrangler jeans before the pageant. Each one was tasked to design their jeans with items that meant a lot to them and represented their state. Wrangler jeans were embellished with adorning jewels, embroidery, feathers and even snakeskin for creativity. Cowboy Lifestyle Network noticed all jeans were beautifully designed. Each contestant glowed with pride as she described her creation in under one minute for the judges and audience at the RAM Cowgirl Kickoff Party.
Fashion Alert! Fringe is Back!
All the ladies looked wonderful as usual, and there are so many different stylish ways to dress like a cowgirl. There was a lot of fringe and we will see what the rest of the week brings, but it seems as though what is back in style is fringe! Hooray for all you ladies who kept your clothes from the 80's!
The fashion at the Miss Rodeo America pageant is always on point, and we are so glad to see all the cool new things the state queens are doing with their clothes. Between dying, stitching, bleaching, and bejeweling, it seems as though most of these contestants spend the majority of their time on their clothes, or at least their money! Either way, there are always some stylish women walking around Las Vegas this time of year, and we can't wait to see what's next!
We will have updates for you each day, recapping what is happening with all these amazing state queens and the Miss Rodeo America 2015 pageant! Remember to follow us on Twitter.
CLN Community & Event Sponsor