The Rise of Mary Heather Hickman, Singer & Songwriter
Singer and songwriter, Mary Heather Hickman is a determined and strong 26-year-old young woman who is chasing after her dreams and making them her reality. She is someone you won't forget about and a true role model. She is a rising country artist and just released her new single called Treasure. Hickman knew from a pretty young age that she had a passion for music and loved to sing. She didn't know it at the time, but Hickman was songwriting from an early age. Hickman remembers making up songs about her dog when she was little. Hickman is originally from El Dorado, Arkansas which is a smaller town in south Arkansas. Hickman moved to Frisco, Texas when she was 5 years old. Frisco is right outside of Dallas.
At age 10, Hickman started playing at these little opry's around Texas which are smaller versions of the Grand Ole Opry. At that point in time, Mary Heather's parents realized that their daughter had the potential to pursue music. They realized she was really good and put in her piano and guitar lessons at age 7. Singing comes naturally to Hickman, piano and guitar Hickman has to work a little more at. Still to this day, she will take some time to practice her skills every month as there are always new things to learn. Country music has always stuck with Hickman. Throughout most of her life growing up, Mary Heather always loved country music simply because it tells a story and that always resonated with her the most.
When Hickman was about to graduate from high school, she decided to audition for the TV show, The Voice. She ended up getting cast onto the show and Hickman got to perform in front of the judges, but she ended up not making it. The only person who had a spot left on their team was Shakira so it was a little bit of a stretch for country music. Hickman had always enjoyed music, she knew she wanted to do music but she wasn't sure if it was possible for her to do music as a career. So after doing the show and getting cast, that was a turning point for Hickman. After the show, Hickman started college at the University of Arkansas in Fayetteville, Arkansas.
"I will say I think that is what kind of created a spark in me to pursue music more seriously."

Mary Heather Hickman
While in college, Hickman formed a band and started playing shows there. Music had taken the forefront of what her passion was. So at the time, Hickman's goal was to finish her degree and then move to Nashville as soon as possible. The band Hickman formed was called Mary Heather and the Sinners. They would play at little bars and ended up getting some pretty good shows. Just to name a few, Mary Heather and the Sinners band opened up for the Eli Young Band, Hank Williams Jr., and Toby Keith. Hickman's band started getting a little bit of a fan base going in Northwest Arkansas and in Texas.
In 2018, Hickman graduated from the University of Arkansas in Fayetteville, Arkansas with a degree in Communication. From there she decided to make the move to Nashville, Tennessee to pursue songwriting. Hickman is still residing in Nashville and is loving it. One of Hickman's goals is to get together with a publisher and write songs for other people. Hickman loves singing as well but her true passion is definitely writing songs.
A couple of months ago, one of Hickman's friends told her about a newer app called TikTok. The app has become quite popular during this past year. Some of Hickman's fellow friends who also are in the music industry were telling Hickman that they posted some of their music on there and it had been working very well for them. Hickman decided to jump on the TikTok bandwagon and give it a try. She posted a few videos that didn't really get much engagement. One day she thought about posting a video on her brand-new song she had written about her bad taste in men and she thought it was pretty funny so why not, Hickman posted it. The song "Treasure" at the time didn't even have a name yet because it was a very new song. The next morning Hickman woke up to find that her video on TikTok had gone viral, it had about 100,000 views, all these likes, and comments on the video. Hickman was so shocked! At this time Hickman has over 2.9 million views and over half a million likes of her TikTok video of Treasure.
TikTok was definitely not what Hickman had in mind to being seen and building up her fan base. Her whole life, Hickman had put so much attention on going out and playing shows and writing songs. She always thought she would build her fan base from the ground up. Hickman now has a little more of a following from people all over including people in Australia which she cannot believe.
"I feel very blessed to have been able to connect with so many people that maybe never would have heard my music."

Mary Heather Hickman
As the song started getting bigger on TikTok, her fans started asking Hickman for a full version because they loved it. Hickman worked fast to get the song recorded, get the album artwork, and everything done. Hickman had posted the TikTok video in December and then the song came out in February. It definitely has been quite a rewarding journey for Hickman and her new single.
Hickman wrote her new single, Treasure with her co-writer, who is also a very close friend, singer, and songwriter, Stefanie Joyce. They were at Hickman's dads' cabin in South Arkansas outside of El Dorado, Arkansas. It's a peaceful and relaxing place that Hickman likes to go and write. Hickman and Joyce had a bunch of ideas they wanted to work on while there. Hickman and Joyce were just hanging out, enjoying each other's company, and drinking some margaritas. Joyce had asked Hickman if she thought she was ready to date again because Hickman had gone through a breakup at the beginning of 2020. Hickman stated,
"I don't know, I just don't know if I can be trusted. I always seem to pick the wrong guys."

Mary Heather Hickman
Hickman and Joyce continued having girl talk, laughing and joking about that. Both Hickman and Joyce being songwriters concluded that, hey that might be kind of a funny song idea. So, then they started with the verse of the song talking about if he looks like he's bad news and he has tattoo's then they went on to creating the chorus, of picking up trash and calling it treasure. Once Hickman and Joyce started writing a song that they had not intended on writing it didn't take long to write. They had a draft written in an hour and a half. The song, Treasure unfolded in the most natural way, over some girl talk and margaritas.
Hickman has two siblings back in Frisco, Texas. One younger sister, who is a very talented interior designer named Audrey, and a younger brother named Will. Hickman loves to go to her brother when she has a new song written to get his opinion. Hickman calls her brother "the tester". Will is a huge country music fan and is very critical of music. He will tell his sister whether he likes it or not which Hickman loves his honesty. Hickman loves that she and her siblings each have an artistic side in their own way.
For someone wanting to start a career in the music industry, Hickman advises don't chase trends because you think that's what's going to get you somewhere. Be very authentic and write about things you know about or tell a story that you have to tell. It will come across so much better than trying to do something because you think it's going to be a hit song or because you think it's what other people want to hear. In Nashville, there's so much of the business side of things as well as so much industry influence. Hickman stated,
"I think the most valuable thing that I have learned in the past couple of years is when you're authentic to who you are that comes across to your fans as well and they can see that you're being yourself. So, my advice would be to stay authentic and also stay humble. I think that's something really important."
In Hickman's home, she has a little poster that she framed from the very first music fest she performed at which was the MusicFest in El Dorado, Arkansas in 2015. The headliners of the music fest were Dwight Yoakam, 3 Doors Down, and Whiskey Myers. Hickman's name is written very small at the bottom of the poster. Hickman stated,
"I have come a long way since then and it's a nice daily reminder just to be thankful and for where I am and to remember where I started. So, I think that's a good lesson too, to just be humble and to also thank the people who helped get you where you are."
One of Hickman's biggest life influencers that she looks up to is her dad, Mark Hickman. Hickman stated, "my dad is the most hard-working person that I know. He would do anything for anybody." People also tell Hickman that her dad would give the shirt off of his back if somebody else needs it. That is something that Hickman really admires and is something Hickman tries to incorporate into her own life. Loretta Lynn is another huge influence, Hickman loves that Loretta has always been so genuine and authentic. Hickman admires how Loretta always has written music that says what she wants to say without worrying about what others think of her. Hickman is also a fan of Dolly Parton. Hickman stated,
"Both Dolly and Loretta are completely themselves and I think that's why their careers have been so long lasting because they're authentic and their music has something to say."
One of Hickman's favorite places that she's gotten to play a couple of times at is the Dallas Cowboy's AT&T Stadium in Arlington, Texas. Hickman played outside on a stage at one of their pregame shows before the game started. They put Hickman on a big screen inside and Hickman had the best experience.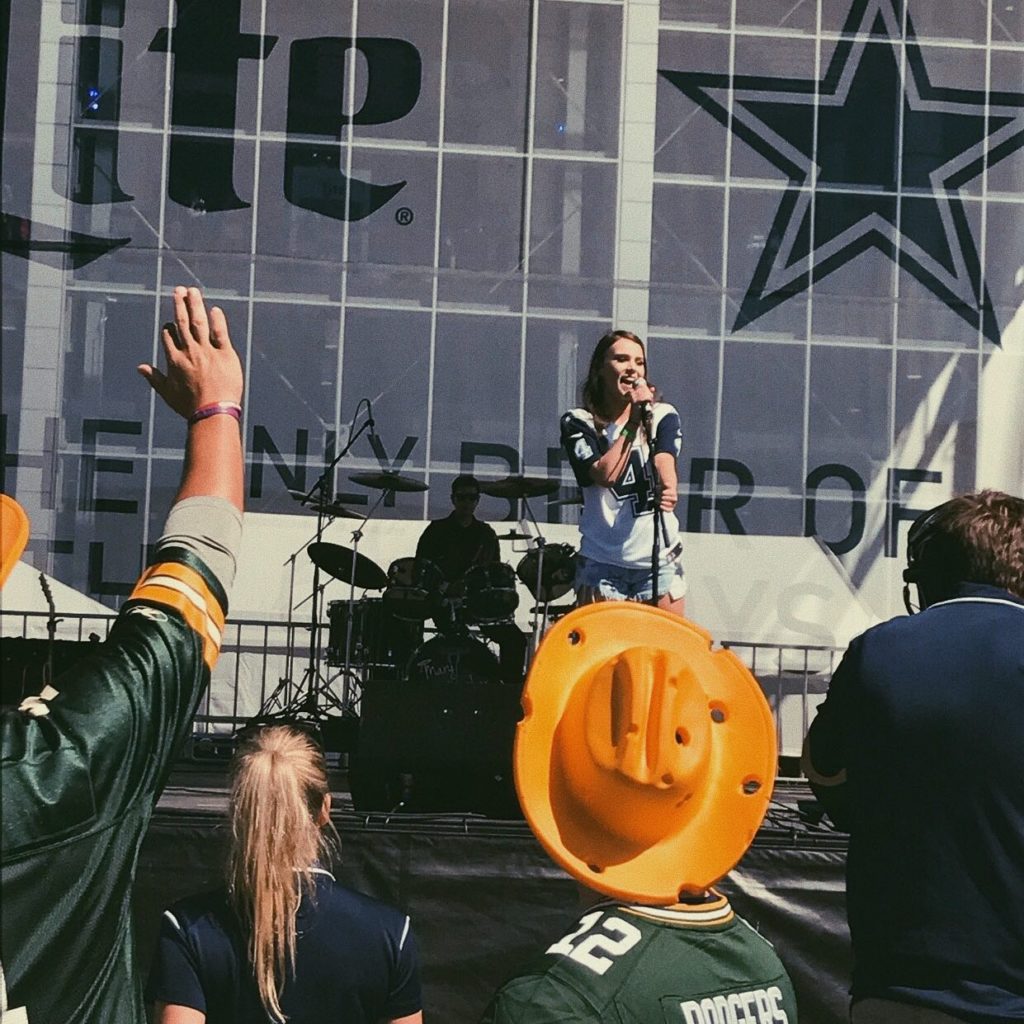 Hickman has more new music coming for you guys later this year, her next single is called, Ouchita River featuring her close friend, Stefanie Joyce. Ouchita River will be released sometime over the summer. Joyce has done all the background vocals for Hickman on this next new single. A little sneak peek into Hickman's next single, Ouchita River is a river that runs through where her dad's cabin is in Arkansas. The song will tell a story but from someone else's perspective other than Hickman's. Hickman has an entire E.P. album lined up but she'll be releasing each song in the E.P. as singles this year and into 2022. Later on, there will be a full E.P. released with about 7 songs on it.
Mary Heather Hickman is without a doubt is a true role model and inspiration for people. Hickman has shown us to never give up. After not making it on the show, The Voice, Hickman didn't let that stop her. She chased after her dreams, worked hard, and is continuing to make her dreams a reality.