The annual Dueces Wild Rodeo comes to Show Low, Arizona, on July 1, and starts at 7:00 P.M. The Grand Canyon Pro Rodeo Association or GCPRA sanctioned event celebrates its tenth year of attracting professional Western athletes and thousands of spectators alike.
Ten years ago, the Deuces Wild Rodeo came into existence thanks to the efforts of local businesses that support and sponsor the event. In addition to giving cowboys and cowgirls the chance to demonstrate their talents and win prizes, the Arizona GCRPA event also benefits the community. Tourists attending the Show Low festivities shop in local businesses. Every year, the rodeo donates thousands of dollars in revenue to a variety of local charities, which include the Big Brothers/Big Sisters organization, the White Mountain Clothe-a-Child and the White House Safe House.
GCPRA Events
Every year, the number of spectators increases. In 2015, the Dueces Wild Rodeo attracted a crowd of approximately 3,000 guests who were thrilled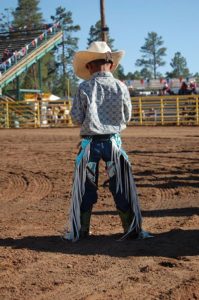 to watch the seven main events. The Show Low rodeo events are as follows:
Bareback riding
Barrel racing
Breakaway roping
Bull riding
 Saddle bronc riding
Team roping
Tie-down roping
The Lil' Deuces Wild Rodeo
Before the GCPRA premiere events take place and to the delight of audiences, children aged 4 to 6 are welcome to compete in the Mutton Bustin' competition. Youngsters from the age of 7 to 12 compete in the Calf Ride, the Steer Ride and Cash Cow events. Budding Western athletes from 13 to 15 display their skills during the Saddle Steer Bronc Riding competition.
Rodeo Queens
The festivities would not be complete without the lovely ladies who serve as the Queens of the rodeo. All young ladies are welcome to compete. However, the Show Low Rodeo Queen Committee chooses the young women who best represent community youth, have a desire to promote Western heritage and the sport of rodeo. In addition to attending the rodeo, the ladies travel throughout the state of Arizona representing the city, county and the committee. In 2015, the young ladies chosen to serve as royal
ambassadors were:
• Queen-Sabrina Hoskins
• Teen Queen-Megan Lawler
• Lil' Deuce Queen-Rylee Finch
Additional Events
Following the Deuces Wild Rodeo, the festivities in Show Low continue with the Main Street Farmers' Market & Art Walk and the 4th of July Parade & Freedomfest.

The Ak-Chin Indian Community, the Earnhardt Auto Centers Road Team, and the Cowboy Lifestyle Network plan on covering all of the action during the Arizona GCPRA event. The Cowboy Lifestyle Network is also the website to visit when interested in other Western events throughout the country.
Furthermore, Coors Banquet and the Wildland Firefighter Foundation is working extremely hard this summer to protect the brave men and women who are fighting wildfires across the Southwest this summer for the 2016 Protect Our West (POW) Campaign. Accordingly, if you are over 21 years of age, be sure to show your support by purchasing Coors Banquet to support our American heroes.
CLN Community & Event Sponsor