Diamond A Ranch: Arizona's Largest Working Cattle Ranch
The west is still very much alive in Arizona! To be a little more specific, the west is still alive in Seligman, Arizona, home to Arizona's largest and oldest cattle operations in the state, Diamond A Ranch. Beyond re-ride stories and stories passed down from the generations, we were able to snag some time with Ranch Manager and Cattle Operations Owner, Rick Kieckhefer, who let us in on some of the details of the Diamond A Ranch.
CLN: Can you give our audience a little background on the Diamond A Ranch?
The Diamond A ranch is the largest cattle ranch in AZ. Consisting of 725,000 acres spanning 75 miles from north to south. The ranch runs an Angus genetic-based cow herd. All calves are marketed through some of the top, all-natural retail programs in the business including Whole Foods, Wal-Mart, and GourmetBeef.com.
CLN: What is the brief history of the Diamond A Ranch?
Originally part of the VVV ranch which operates many ranches in northern AZ and once ran 30,000 cows and 1,500 horses, also known as the " Boquillas " ranch it was purchased by the Navajo Nation in 1987 in which they still own today. Since 1982 Cholla Livestock LLC has operated the Diamond A and continues to operate with a respect to tradition.
CLN: The Diamond A is one, if not the only outfit to still run wagons, why is that still important to ya'll?
The Diamond A still continues with the theme of a "spring/fall works " wagon. Though it has its challenges in today's world, the wagon is used as a cost-effective way to "work" certain parts of the ranch for several days at a time. The Wagon would include teepees, bedrolls for sleeping, and a modern-day chuck wagon with tents for cooking and eating.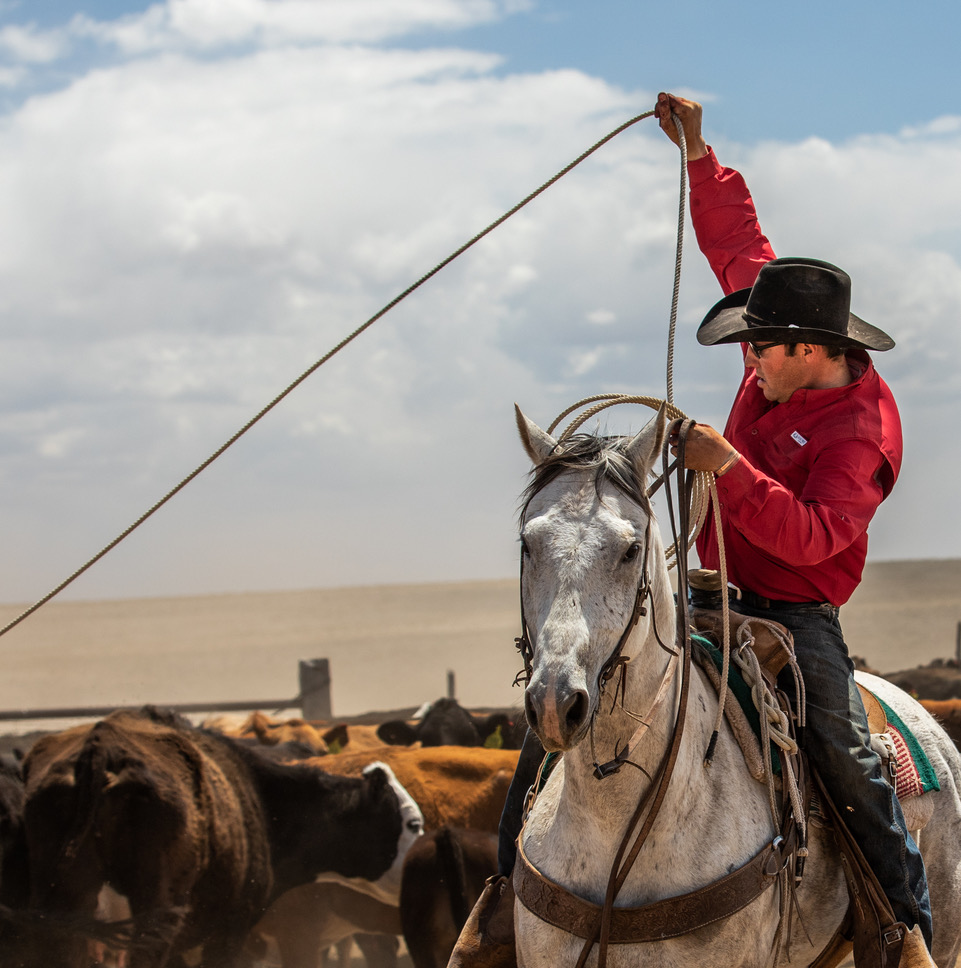 CLN: Can you give us a few more details on how you raise your ranch horses? What can people expect when they get a horse from the ranch?
All of the ranch horses are raised outside on the same rangeland they work in daily. Horses at the Diamond A are ridden extensively while on the "works" season, with many pastures on the ranch being 2x to 3x bigger than most AZ ranches. The horses that the ranch offers for sale at the Legacy Ranch Horse Sale (in partnership with Cholla Livestock) are really broke, solid ranch horses that can continue to be ranch horses or end up in some of the highest levels of performance horses competitions in the country.
Legacy Ranch Horse Sale 2021
The Diamond A currently runs a remuda of 75 working saddle horses, 30 broodmares, 3 stallions, and 35 young geldings and fillies. All the horses are run outside in the same tough country they work in. The bloodlines of the ranch are mostly from cow and ranch horse stock and include Tanquery Gin, Doc O'Lena, Colonel Freckles, Peppy San Badger, Bueno Chex, Driftwood, Zan Parr Bar, PlayGun, Easy Jet, and Doc Tom Tucker.
The horses and cowboys of the Diamond A are part of an old cowboy tradition that continues to live on throughout the southwest and with a strong dedication to people, cattle, and horses the Diamond A strives to continue as a leader in the industry. You can experience one of the Diamond A ranch horses by participating in their upcoming Legacy Ranch Horse Sale on September 18th. See the full schedule below or find more information on their website.
Friday, September 17th
7:30 am- Open Ranch Horse Versatility Show
12:00 pm- Sale horses check in and numbered
Saturday, September 18th
8:00am- Equifest opens
12:45-1:45pm- Rope Horse Demonstrations
2:00-4:00pm- Branding and dry work demonstrations
4:00-5:30pm- horses available in stall viewing area for viewing and questions
5:30pm- Legacy Ranch Horse Sale
CLN: Is there anything you'd like to add that you think our audience should know about the Diamond A Ranch?
With the purchase of Cholla Livestock by Rick and Sarah Kieckhefer, the merger of the Diamond A Ranch with the Kieckhefer's K4 Ranches has created the largest cattle ranching operation in the Southwest. The operations have also moved into the beef business with GourmetBeef.com providing consumers with Diamond A/K4 Ranch, single-sourced, local, hormone-free, and USDA graded Prime/Choice beef that is available at many local retail partners and online at GourmetBeef.com
Who Protects the Diamond A Ranch?
CKP Insurance is the industry leader in Pasture, Rangeland, Forage Insurance. The program is designed to provide insurance coverage on your pasture, rangeland, or forage acres. This innovative plan is based on precipitation using the Rainfall Index. This program is designed to give you the ability to buy insurance protection for losses of forage produced for grazing or harvested for hay, which result in increased costs for feed, destocking, depopulating, or other actions.
What are the benefits of PRF Coverage?
The program is very affordable because the government subsidizes 51%-59% of the premium.
Premiums are not due until October 1 of the crop year.
No claim forms.
No adjusters needed. Claims are paid. automatically based on data from NOAA CPC.
With CKP Insurance on your side, they are dedicated to providing you with insight, information, and alternative-risk solutions that are custom-fitted to your business and personal needs. They can tailor a plan for you using specific data in your region and even select options acre by acre. Their expertly trained professionals will walk you through a range of options using risk-assessment tools that will take the pressure off when there is a drought in your area. You can see what they've been able to accomplish with the Navajo Nation here.
The CKP Promise
CKP Insurance will…
conduct a one-on-one personal consultation to go over your specific ranch or farming operation needs.
provide an honest assessment and discourage you from purchasing unnecessary coverage.
keep you informed throughout the year as to how the program is performing for you and advise on other opportunities to maximize your cost savings.