It takes grit, passion, and confidence to be a cowgirl, and Fallon Taylor, 2014 WPRA Barrel Racing World Champion, has always embodied these three qualities. At the young age of 13, Fallon came racing into the rodeo spotlight when she qualified for the 1995 National Finals Rodeo (NFR). She went on to qualify again in '96, '97, and '98, before taking time off from the rodeo circuit to move to New York City to pursue a modeling career, which proved to be very successful. The rodeo star left New York after 10 years to pursue an acting career in Los Angeles and landed roles in a number of popular tv shows and movies.
The heart wants what the heart wants, and after her time in New York and Los Angeles, Fallon returned to Texas to pursue barrel racing again. In a tragic accident, Fallon was bucked off while training one evening and suffered a head injury that proved to be nearly fatal, temporarily paralyzing the athlete. Overcoming all-odds, Fallon not only walked again, but rode again, and went on to qualify for the NFR in 2013. One year after her triumphant return to the Thomas & Mack, Fallon earned the title of Barrel Racing World Champion, aboard Flos Heiress, 2013 WPRA/AQHA Barrel Racing Horse of the Year.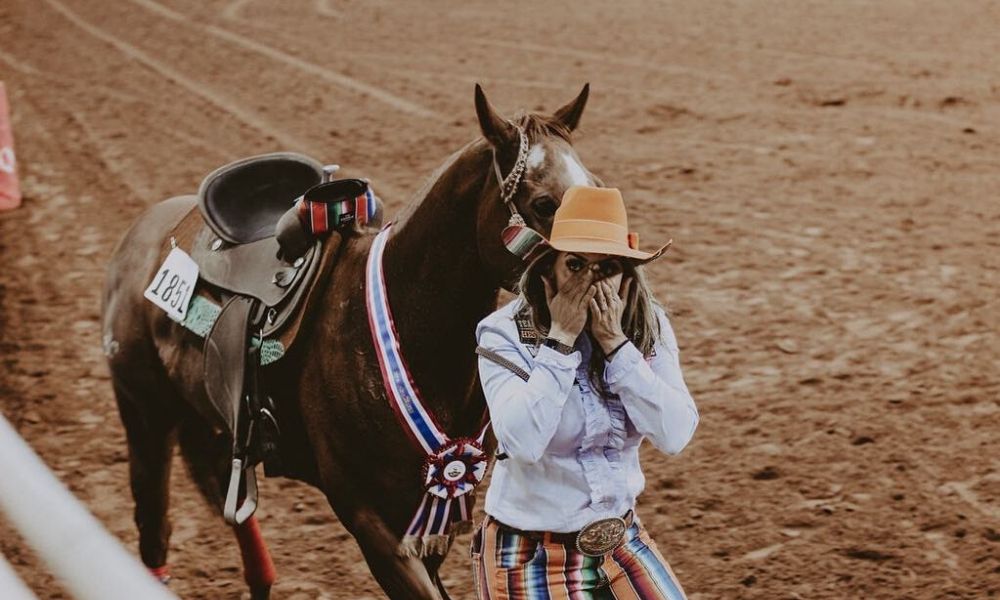 Since then, Fallon has gone on to accomplish more amazing feats, such as winning the 2018 AQHA Barrel Racing World Championship and being crowned the 2019 Thoroughbred Makeover Barrel Racing Champion. Continue reading to learn more about Fallon and her current ventures!
An All-Around Athlete & Coach
Fallon has continued to compete as a barrel racer, but has also spent time working on improving herself as a rider, taking English riding lessons and competing in show jumping; her versatility as an athlete has transformed her into one of the top barrel racing coaches. Fallon currently offers clinics and also frequently posts tips and advice on her YouTube channel where she currently has over 157k subscribers.
One of her most popular videos, 360 Virtual Reality Horseback Riding with Fallon Taylor, can be watched below.
Fallon as a Business Owner & Entrepreneur 
As if Fallon isn't busy enough, the all-star athlete runs her own clothing business, Ranch Dress'n, which has become very popular in the rodeo world. There's a reason why Fallon is known as one of the best-dressed athletes in rodeo, and it's because she often mixes pieces from Ranch Dress'n into her wardrobe! Be sure to shop for the latest styles here.
Aside from her popular retail company, Fallon also runs "Horse Bosses," an exclusive online community for equestrian athletes, and "The Passion Project," an online platform that's mission is to help entrepreneurs build businesses together.
Fallon and Total Feeds
Fallon Taylor has been in the Total Feeds family for a long time and has continued to attribute a lot of her success to how the Total Feed product line has changed the lives of her horses. In an incredible transformation that can be seen below, Fallon describes how her NFR horse True Identity came back to her in very poor condition, and how she was quickly able to rehab him thanks to Total Feeds and ForeFront Equine. How incredible!
Whether she's barrel racing, show jumping, coaching, or running a business, this incredible cowgirl continues to excel. It's women like Fallon that will help the Western Industry continue to grow and evolve, showing women that it's possible to break barriers and achieve excellence through hard work and dedication.
To learn more about Fallon, visit fallontaylor.com. If you'd like to keep up with Fallon's day to day life, be sure to follow her on Instagram at @fallontaylor2.
CLN Community & Event Sponsor