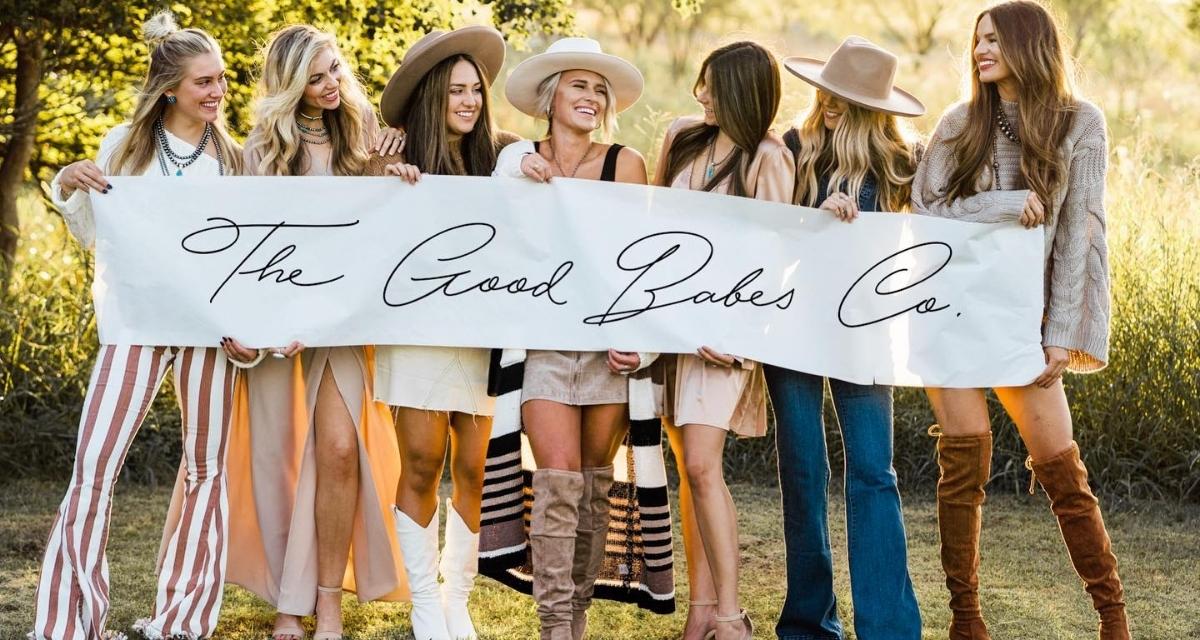 "The Good Babes Co. – a lifestyle clothing brand that strives to give women confidence through clothing, with prices everyone can afford," said Founder and Owner Shelby Lovelace. We are here for helping and donating to non-profits, telling a random stranger that you LOVE their outfit, skipping Starbucks to donate money to those who are in need, or even just giving a helping hand to someone at the grocery store. Let's all strive to be Good Babes!"
In 2016, Shelby opened a very small storefront, then known as Buckin Wild Designs, after graduating from Texas A&M University in 2015 with an animal science degree. While working for Dell as an inside sales account manager for four years, she dedicated long nights and great effort to her small business until she could take it full-time.
In August 2020, The Good Babes Co. was born when Shelby rebranded her business with a name that spoke to her heart. In a world where women tear each other down every day, she saw a need for a voice in the fashion industry, particularly the western fashion industry, that promoted kindness, and positivity.
What The Good Babes Co. offers is fun clothing that you can't find on Amazon or Target, but that is still just as affordable. When picking out items, Shelby keeps her customers in mind and looks for unique staple pieces that are affordable, great quality, and versatile.
"We want to give you that once in a lifetime feeling when you wear it out to a concert or bachelorette party. Everyone deserves to have that stop and stare moment when you walk through the door."
Because of Shelby's background in agriculture and the western lifestyle, she understands what women in the western industry need and want. She grew up raising commercial cattle, showing livestock, and competing in rodeo. Today, Shelby is still heavily involved in the western industry outside of her clothing brand. She enjoys starting young horses, running barrels, and roping on the side; she and her husband have a funny farm complete with horses, chickens, brahman cattle, fallow and axis deer, and four dogs.
One of her favorite reviews left about The Good Babes Co. is,
"This is the second jean purchase from The Good Babes Co., and they 👏🏻 don't 👏🏻 miss 👏🏻! I am so happy I found this company and that I've ordered my jeans from here. They fit well, don't wear out, and are worth the money. I wear these jeans out in Downtown Ft. Worth or the next morning roping with my dad. They are universal for any setting."
"I think being raised with a western background has backed everything that has to do with my morals and ethics of the business and the meaning behind The Good Babes Co. It has most certainly molded me into the person I am today and pushes me harder every day to continue to be the best that I can be."
The Good Babes Co. has recently released a women's workwear line to encourage working women to take on the world. The Shop BBT Label, Basics Blazers + Trousers, was curated by Dani Reinhart and Shelby, and it offers classic and timeless pieces to last for years to come.
"Our workwear line, Shop BBT Label, has actually amazingly spread all throughout the western industry, from FFA conventions to livestock judges to rodeo queens all presenting in our blazers. That has been super neat to see; but let's be real, western people have always been ultra classy, am I right?😉"
However, there is a much deeper purpose for the company than providing women with quality clothing. Shelby strives to create a community of encouraging and confident women. She has already done so, and she continues to connect women who support one another.
"A rule of mine is to surround myself with women who talk about opportunities, not others, and it leads me to such positive places in so many aspects of life and business. I am literally SURROUNDED with the most intelligent and driven women that push me to keep going even when I feel like quitting."
To become part of The Good Babes family, check out their website here. You can also keep up with everything that Shelby and The Good Babes Co. are doing by following them on Facebook and Instagram.
CLN Community & Event Sponsor