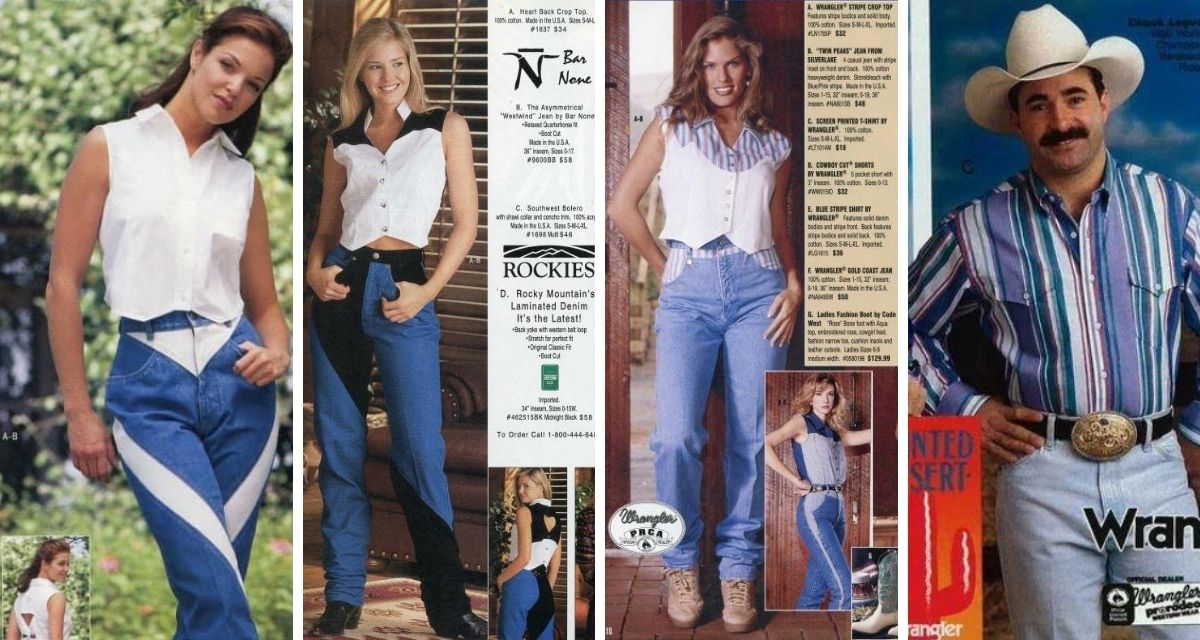 If you're anything like us, you love vintage western fashion. Current western fashion is great too, but you can't beat classic Wrangler or Rockies. Today we are going throwing it back to classic western fashion. Let us know if you remember wearing any of the outfits below and shout us out on social media if you have any photos you'd like to share.

Rockies
Who doesn't love a classic pair of Rockies? We LOVE them. They came in just about every color, shape, material, and pattern you can think of. It wouldn't be uncommon to find Rockies paired with a great leather or denim jacket and a crop top. Bright colors and crazy patterns were all the rage when Rockies were popular. Can you imagine if Rockies were to make a comeback? Would you support the trend?

Classic Wrangler
The true gem of denim fashion, classic Wrangler. Even back in the '60s and '70s Wrangler was pushing out top of the line fashion for women. Their motto? "Wremember – The W is silent". As you can see in the ad below, this is the motto they built their ads around for the time. This lasted well into the 70's that we could find. Much like the Rockies, Wrangler went for "wradient" colors with the "wright" fit. We are pretty partial to the play on words, what do you think? Should Wrangler bring back the "Silent W" campaign?

Two-Tone Denim
You have to love the 80's! Two-tone denim and Canadian tuxedos were in style more than ever. It was pretty common to see women in Wrangler shorts and screen printed tees. The model on the left is wearing an ever-popular jean crop top with her high-waisted striped jeans. This is a style that we could see coming back in with maybe a few tweaks. Were you someone that used to love the two-tome denim look? Let us know!

Big Hair
God Bless Texas and big hair! We mean, God Bless Reba and her big hair! In all seriousness though, big hair was just as much a part of the 80's western fashion as was what you wore on your booty. Country artists like Reba and Shania Twain killed the big hair game and will forever go down in history as some of the best country artists that pulled off the look.

Brushpopper Button-Ups
Here's a throwback for all the gentlemen out there. How about the classic Brushpopper Button Up shirt by Wrangler? You might recognize them as the brightly colored and patterned western shirt that men would have worn in the '80s. This should be up there under Classic Wrangler because it doesn't get any more classic than this. We love a handsome man in a Wrangler! I wonder if anyone still has these lying around the house?
CLN Community & Event Sponsor