CLN got a chance to interview two time Miss Cave Creek Rodeo, Amanda Barlow. Between organizing barrel racing competitions, training her stallions, developing her own breeding program, and traveling to Professional Rodeo Cowboys Association (PRCA) rodeos to promote the Desert Foothills Community Association (DFCA),  Amanda was kind enough to fit in a few moments for CLN.
CLN: What made you want to run for Miss Cave Creek Rodeo?
Amanda: I'm quite a character. I have always known exactly who I am and have always been someone who loves helping others. This is my way to share my world with others who don't know about rodeo. And my chance to be a role model for kids who want to be a part of this world.
CLN: Who are your heroes?
Amanda: My heroes are the men and women who risk their lives every day for this country and our freedom and never get the recognition or thank you they deserve. My heroes are the men and women who still stand and put their hand over their heart for our flag. The ones who are willing to sacrifice personal things to get what they want. The ones that know what they want, and never question it, and go for it with everything they have
CLN: Does your family support you in your racing?
Amanda: My family loves the horses and supports all of my choices and sacrifices to live this life style. You can usually find my mom somewhere in the crowd. She's the first one I go hug, and jump up and down with, when I lay down an amazing time in barrel racing or win the rodeo. And my dad is the one who won't let me quit, even when I'm down on myself or second guessing my abilities or the horse I'm on. And he has never been wrong!
CLN: What would you say to all young girls who want to become a rodeo queen?
Amanda: I would say to go for it! Give it your all and bring more than what they expect to the stage. As a rodeo queen the rodeo is your stage. Go above and beyond, because you don't realize how many people look up to you when you hold a title. How heart- warming it is when kids want to hug you. How many little girls want to grow up to be you. How happy everybody is just to see you and your horse all dressed up. You have to be a perfect example of elegance, grace, and of course willing to get dirty too!
CLN: What is life like on the rodeo road?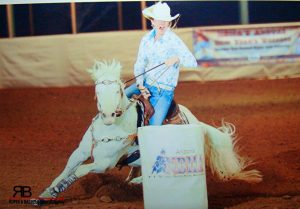 Amanda: Well honestly if I didn't have my dog I would go crazy! He is always sitting shot gun. Life on the rodeo road is hard. Seems like you never drink enough water and you live off fast food. And you usually end up falling asleep with a pound of dirt on your face. If you're lucky the weather works in your favor. If not you have to add in the rain, mud, freezing cold, and desert heat into your plans. But there's something to traveling down a scenic road listening to my personal favorite country station, 96.3, that just makes you feel free and puts a smile on your face.
CLN: What do you think of the sport of rodeo today?
Amanda: I think rodeo today is harder to compete in. Breeders keep coming out with faster and more powerful horses. And new more expensive ways to take care of them. And with the high price of gas, that affects rodeo so much now. Less and less people can still do this sport, but the ones who do are the toughest of tough, who sacrifice everything to be there, and live and breathe a little piece of the old west past.
CLN: In your opinion what does rodeo teach us today?

Amanda: I love rodeo. The sport teaches hard work and commitment. Owning a horse teaches responsibility and empathy. And I believe the most important thing about rodeo is family. Both your own family and your rodeo family. It is so awesome to be able to raise your family inside of a sport. A lot of families rodeo together, travel together, compete together and support each other. If you don't have family, your rodeo family, even your competitors, will give you that support. Rodeo brings back a little of the past. When getting lost with your horse was therapy and wide open spaces and a clear sky were the best of days.
CLN Community & Event Sponsor