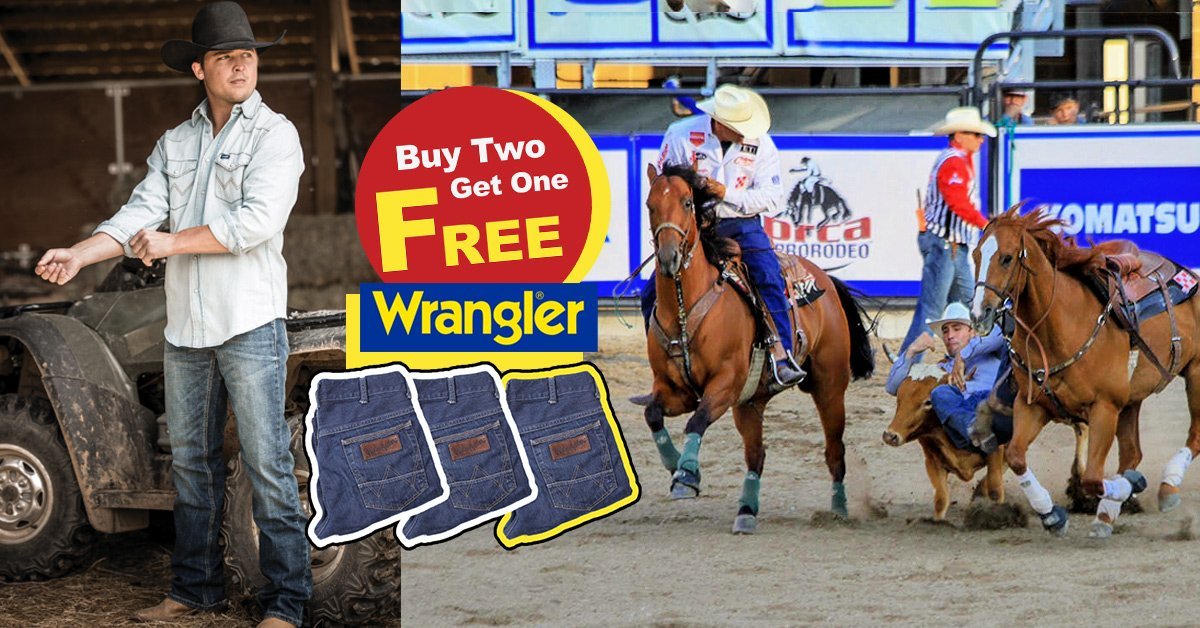 Wrangler Jeans Buy 2, Get One FREE
& $10 Rebate For Each Wrangler Shirt
Starts July 12th – 24th
At Boot Barn In

Riverdale, UT & Evanston, WY
Save Big on Wrangler Jeans & Shirts for all the summer rodeo action! To make sure you look your best, Wrangler & Boot Barn are presenting TWO incredible rodeo offers starting July 12th to 24th.
Buy 2 Wrangler Jeans, Get 1 Free*
Buy a Wrangler Shirt, Get $10 Rebate**
Visit Boot Barn in Riverdale & Evanston, WY for details.
Get on over to the Days of '47 Rodeo in style with Wrangler.
Clothes make the man. Naked people have little or no influence on society.
– Mark Twain
*Buy any 2 Wrangler bottoms between the dates of July 12th – 24th 2018, receive your 3rd bottom of equal or lesser value FREE!
The Wrangler Buy 2 Get 1 Free on all Wrangler bottoms promotion is inclusive of ALL Wrangler specialty brands (Wrangler Cowboy Cut, Wrangler Premium Performance Cowboy Cut including Advanced Comfort & Cool Vantage, Genuine Wrangler, Wrangler ProGear, Wrangler Riggs Workwear, Wrangler Rugged Wear, Wrangler Premium Patch, Wrangler 20X- all styles, Wrangler Retro, Wrangler Blues, Riata, Aura from the Women at Wrangler, Wrangler The Ultimate Riding Jean, Rock 47 by Wrangler, As Real as Wrangler, George Strait, All Terrain, Wrangler Baby, Silver Edition, Wrancher).
**The Wrangler $10 Rebate For Each Shirt promotion is valid for men's & women's Wrangler shirts priced at $19.99 or more (after discount; before tax). Promotion excludes T-shirts & youthwear. Rebates postmarked by December 31, 2018. See rebate in stores below for specific details.
Your local rodeo keeps the traditions of the West alive. Visit a rodeo near you to support your community businesses and charities while having fun!
From July 19 through July 24, rodeo fans and Western athletes from far and wide will gather at the arena at State Fair Park in Salt Lake City, Utah for the annual Days of '47 Rodeo 2018. A select number of cowboys and cowgirls are invited to compete for the coveted gold medal and the chance to win $744,000 in the One Million Dollar Rodeo. Funds raised during the event benefit a variety of local charitable efforts to include the education of the state's youth.
The One Million Dollar Rodeo was established in commemoration of the Mormon pioneers who arrived in the Great Salt Lake Valley on July 24, 1847. The rodeo began a decade later. The hardships, struggles and determination of the people serve as an inspiration for modern-day pioneers to have courage in the face of adversity in order to fulfill a dream.
CLN Community & Event Sponsor