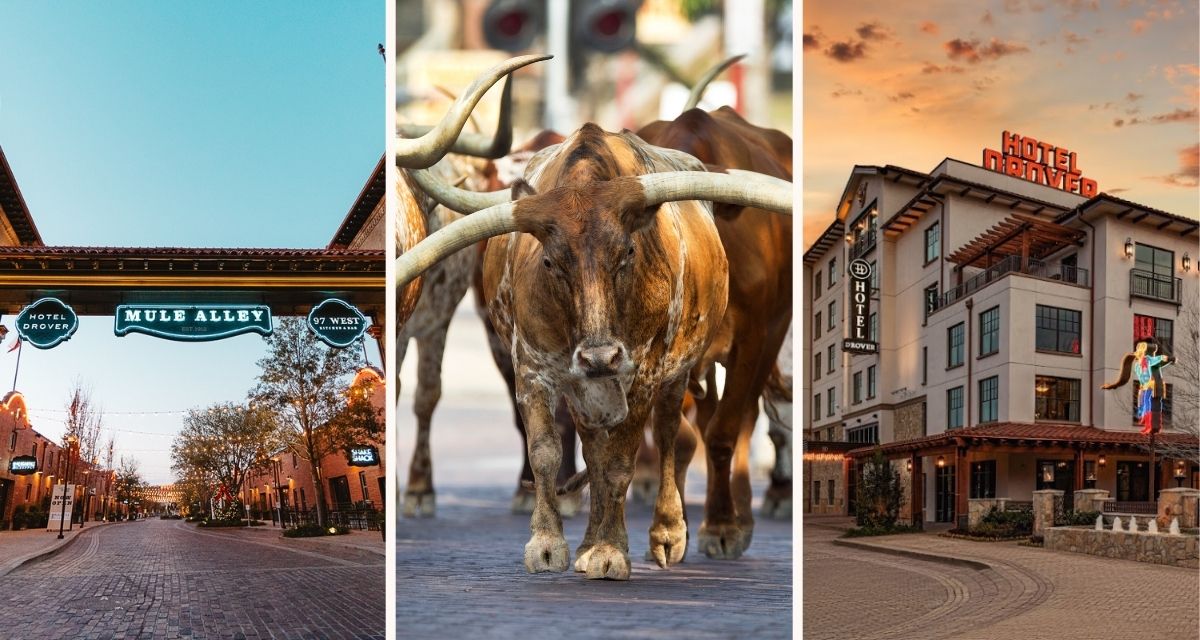 Your Fort Worth Stockyards Travel Guide
The Fort Worth Stockyards, the true Cowboy Capital of the World. People come from all over the world to get a taste of the "real west". There's nowhere else quite like it and that's coming from a gal that lives and breathes Arizona. Listen, I love Arizona as much as the next native, and I thought our towns were pretty "western", but nothing comes close to the Fort Worth Stockyards. And just when you thought you may have seen and experienced it all, it gets better. In this feature, I will be exploring some of the best places to eat, drink and shop in the Fort Worth Stockyards. This is just a snapshot of some of my favorite places in the Stockyards, but there is much more to see and do beyond this list as well. 
The Stockyards themselves are made up of a few historic blocks north of Fort Worth proper. Within a couple of square miles that make up the historic district, there are 14 restaurants, 13 bars, 35 shops, and over 17 must-see attractions, including its newest upscale shopping, dining, and entertainment district, Mule Alley. You will see a little glimpse of those below, but first, it's important that we dive into the history of the Fort Worth Stockyards because that in and of itself is a whole story, but I'll try to keep it short. 
History of the Fort Worth Stockyards
When I was in town for the week, I was lucky enough to get a one-of-a-kind tour with one of the Stockyard's Ambassadors, who give visitors a peek into the history surrounding them. My tour started at the Hotel Drover, and as we made our way up Mule Alley, my tour guide explained that the brick buildings that make up Mule Alley were, in fact, horse and mule barns back in the day. Before the big project to renovate them had started, they were empty and a bit of an eyesore for the community. But anyone will tell you the history of this place is the largest draw, so knocking the barns down wasn't an option. If you notice when walking down the street, there are letters at the top of each section of the barns, this was used back in the day to help list where certain animals were when it was time for the stock show.
As we moved further down the street, my guide explained what the early days of the Stockyards looked like. In case you didn't know, the Stockyards were a main stop on the Chisholm Trail, which ran from South Texas to Kansa. This trail was a well-known cattle route for drovers (cowboys) to move their cattle to sell at major markets or get to a major railroad. Most of the cattle that came through downtown Fort Worth traveled down what is known today as Commerce Street before settling down north of downtown. Stay tuned for a separate follow-up on the history of the area because it was astounding walking around and hearing everything this little town had been through to get to where it is today.
Cowtown Coliseum & the Stock Exchange
I know you're itching to get to the good stuff, but hang tight, I am setting the scene for the whole experience. The tour guide and I made our way across the street, where I was able to get an inside look at the Cowtown Coliseum. Initially created to be the main stage for the local stock shows, it has remained the center for entertainment in the Stockyards. Now you can catch a pro rodeo every weekend in addition to several other regularly occurring events. The Stockyards were often referred to as the "Wall Street of the West". This was because when the towns were full of livestock and stock shows, there were "stockbrokers" who would barter on a buyer's behalf to get the best deal for an animal.
The Fort Worth Stock Exchange was the hub of Wall Street. The open hallways were specifically designed for brokers to easily communicate and deliver bids to their buyers. If you wanted to purchase livestock, this was where you would go. Fun fact, due to the nature of buying and selling animals, the Exchange always had exorbitant amounts of cash on hand all the time. So naturally, they needed a safe place to keep it all, so the Exchange was built around 3 massive safes to keep all the cash safe. You can still see one of the safes in the hallway today.
Where to Stay in the Fort Worth Stockyards
Okay, let's get into the good stuff! While there are plenty of options to stay in and around the Fort Worth Stockyards, if you want the full Stockyards experience, then you need to stay at the Hotel Drover. Famously named after the "drovers" that made Fort Worth what is today, the hotel is the pinnacle of western luxury and is worth every penny.
Experiencing The Hotel Drover
From the moment that you turn the corner onto Mule Alley, your eyes are set on the picturesque building at the end. With both sides of the street lined with restaurants, bars, and shops, the Hotel Drover takes center stage. From the moment you walk in the door, your experience starts with the hotel's "signature scent". Now, you might be thinking, "Krysta, isn't it weird that a hotel has a signature scent?". The short answer might be yes, but from an experience point of view, the Hotel Drover doesn't stop at just "giving you a place to stay", the hotel is an experience in itself and the signature scent plays a small, but important part of that.
When you walk through the doors, you're greeted with beautifully curated art along with a lobby designed for entertaining and connecting. In fact, that's one thing I loved learning about the hotel is that the hotel isn't entirely exclusive to just guests. Anyone wanting to come in and experience the hotel for themselves are welcome to enjoy the lobby, Lobby Bar, and back patio to get a small taste of a greater experience.
The Rooms
Now, we already know that the center of Hotel Drover's mission is to provide a luxury western experience for its guests, so it was no surprise that their rooms were just an extension of what I had already experienced in the lobby. They offer seven different kinds of rooms and suites along with different packages depending on what you're wanting to do during your stay. Did I mention that the hotel is also dog friendly? It's true, one evening sitting at the Lobby Bar, I was greeted by a big, beautiful Golden Retriever named Denver and found out that they even offer packages for your four-legged friends. They have something for every kind of taste, they even have a bunk bed option for those traveling with families. One thing I appreciated from the moment I walked in the door is all of the little details that the Hotel Drover takes into consideration for their guests. First is the consistency of your experience. From the moment I checked in, from the moment I checked out, the service was impeccable, and from a marketing/brand standpoint, the experience as a guest was everything I could have hoped for and more.
97 West Kitchen and Bar
Of course, what luxury hotel would be complete without its own signature bar and restaurant? 97 West Kitchen and Bar is the perfect addition to the Hotel Drover. With an exquisitely designed food and beverage menu, 97 West offers a variety of modern and Texas classics in addition to specialty items like antelope and pan-seared redfish. You can also enjoy a delicious brunch without even leaving the hotel!
The Best Places to Eat in the Fort Worth Stockyards
Unfortunately, there's no way you could eat at every restaurant in one stay but I sure put in my best effort. Below are just a few of my absolute favorites and ones that I would be happy to return to on a regular basis. If you have other fav spots, make sure to mention them below for me to try on my next trip!
The Biscuit Bar
If you don't like carbs or biscuits then I'm not sure we can be friends. But for real, this is why the Biscuit Bar in Mule Alley is my go-to spot for breakfast because you can never go wrong with biscuits. And in case you forget, there are neon signs throughout the restaurant that remind you life is too short to not eat biscuits.
In addition to breakfast and lunch style biscuits, they also offer a full bar so go ahead and grab a mimosa while you're at it. The order I recommend? The Hoss Biscuit (southern fried chicken, crispy bacon, jack cheese, house-made gravy, honey butter) or the Chicken & Not-A-Waffle (southern fried chicken & biscuit french toast) with a side of their Breakfast Style Tots. Really though, you can't go wrong with anything on their menu!
Avoca Coffee Roasters
If you are looking for a lighter breakfast or just some really great coffee, then you will want to stop by Avoca Coffee Roasters. I went there a couple of different times throughout the week to get my coffee fix and wasn't disappointed either time. I also tried their Lavender Honey Scone and it was delightful, not too sweet but tender and delicious!
Provender Hall
This is a MUST stop for lunch. I am sure they have wonderful dinner too, but their lunch was out of this world. The only thing I can possibly find to fault is that they need hotter, hot sauce. The drinks and food are amazing though. Pictured below is the Smoked Turkey Club and their Pork Rinds. I promise you these Pork Rinds come out sizzling hot and are some of the best things you're going to munch on your whole trip.
Lonesome Dove
I had to save the best for last. If you're at all familiar with the local food scene, then you will know the name, Tim Love. Chef Tim Love has multiple restaurants in the Fort Worth Stockyards and is one of the original restauranteurs of the area. In addition to the Lonesome Dove Western Bistro, he also owns the Love Shack, Atico, White Elephant Saloon, and the newly opened, Paloma Suerte in the Stockyards. I fell in love with this place a couple of years ago on my first trip to Fort Worth and have made it a priority to go back every time I return. You can check the menu out for yourself, but between the ambiance and the food itself, this restaurant will have you talking about the experience for the rest of your stay.
I am definitely a foodie and am an avid cook at home, so when I go out to eat, not only do I truly like to enjoy the food that I'm eating, but it has to be better than what I can do at home. Lonesome Dove has not disappointed me yet. In the past, we have tried several menu items like the Blue Corn Lobster "Hushpuppies" with Watercress Butter (which are amazing!), the Rocky Mountain Elk Loin with Swiss Chard, and Candied Grapes, and the Buffalo Ribeye. For this visit, we opted for the Kuro Wagyu New York Strip, the Roasted Garlic Stuffed Beef Tenderloin with Western Plaid Hash, and Syrah Demi-Glace plus the side of Wild Mushrooms and Yukon Gold Mash. Everything was amazing and we even got a visit from Chef Tim Love himself, which was truly a treat. This is an absolute must if you're in the Stockyards, but make sure to make reservations because they fill up quickly!
Best Watering Holes in the Stockyards
All the of the spots below do offer small bites or a limited menu, but the real highlight of these locations is their atmosphere and their beverages. Let's jump in!
Sidesaddle Saloon
The Sidesaddle Saloon in Mule Alley is a MUST. Located on one of the side streets in Mule Alley, it isn't hard to miss if you're looking for it. You'll know you've arrived when you see their iconic neon sign, signaling the entrance to their bar. Once you walk in, you're greeted with a cozy, and minimalistic setup. I would best describe the vibe as intimate, with a vintage edge. The bar is front and center, with a nice seating area off to the right if you have a group. Then if you want to be truly tucked away, you can head towards the back of the bar, where there is additional lounge-type seating.
If you are a fan of whiskey, then this is the bar for you because they have an amazing selection. One thing I haven't mentioned so far in this travel guide is that I decided to make it my mission to try an Old Fashioned at every restaurant and bar that we went to. Let me tell you, the one that I had here (The Old Ladd on their menu) was one of the best! If you're looking to try something different, I highly recommend the Beth Dutton as it's a little sweet and a little spicy but absolutely delicious. When we saw that they have biscuits on the menu, we knew we had to try them, and I 10/10 recommend them. When in Texas, eat all the biscuits.
Second Rodeo Brewing
Next on my list of favorite watering holes, is Second Rodeo Brewing, located on the main drag of Mule Alley. If you are looking for a place to hang out, listen to some live music, day drink, and get some sun, this is where you want to hang your hat for the day. I really loved everything about this place, they have indoor seating as well as outdoor seating, complete with a dog-friendly patio and a stage for live music.
Regardless of your beverage of choice, Second Rodeo has a drink for everyone. Since they are a brewery, I think it's important you try at least one of their house beers, I recommend the Blonde, as it is light, crisp, and easy to drink. If you are looking for something a little harder, you can try one of their cocktails on tap or one of their alcoholic slushies. My personal favorites were the Bourbon Lemonade cocktail and the Trash Can Slushie. Then once you've indulged in your favorite beverage (or two), you can get in line to get some grub. The kitchen has a walk-up window where you can order your choice of wings or Philly cheesesteak. While they do have a bit of a limited menu, their Philly Cheesesteaks are to die for. I can't wait to go back and try the wings!
Hotel Drover Lobby Bar
Listen, I am all for hitting up any one of the local dive bars (the White Elephant is a blast), but since you're already staying at the Drover, you should end at least one night by hanging out at the Lobby Bar. This isn't like the old Days Inn hotel bar that you might be used to. The drinks at the Drover are some of the best in the Stockyards. In fact, on my first night in town, I spent a couple of hours working, people watching and sipping beverages at the bar. Along with the rest of the staff, the bartenders were nothing short of amazing (shout out to Jason) and not only made sure you were happy with your drink but were also more than happy to give recommendations on where to go in town. My favorite drinks that I had at the Lobby Bar were, of course, the Old Fashioned (made with TX Whiskey), the Texas Paper Plane, and their Espresso Martini. I am not a fan of martinis and the Espresso Martini came highly recommended by the bartender, so I knew I had to try it before I left. If you are looking for a low-key night and enjoy small talk at the bar, then I definitely recommend posting up at the Lobby Bar for a few drinks.
Things to Do in the Stockyards
One of the things I love most about staying in the Stockyards is that you don't really need to drive anywhere. Everything you need is within walking distance of the Hotel Drover. There are a couple of things that I highly recommend you check out as a first-time visitor.
Catch a Cattle Drive
I've seen plenty of cattle in my lifetime, but never like this. Fort Worth is the only city in the country that owns and manages its own herd of Longhorns. The cattle drive takes place every day at 11:30 a.m. and 4 p.m. on East Exchange Avenue. You may want to get there a little early, as the streets do fill up pretty quickly with other tourists wanting to get a front-row seat. Then when it's all said and done, make sure to stick around because the drovers will come back out with a couple of the Longhorns that are saddled up and you can get your picture sitting on them for just a few dollars. Definitely worth it!
Shop Til You Drop
You can't come to the Stockyards and not shop. Even if it's just a little bit of window shopping, the local shops are a blast to poke in and out of, and who knows, you might just find something you love. With over 35 shops to choose from, these are the ones I had time to pop into.
Kimes Ranch Store: This is a great stop if you're looking to take your jeans game to the next level. I personally love Kimes Jeans as they last longer than most of the traditional jeans on the market today. If the jeans aren't quite in the budget, then maybe opt for one of their awesome baseball hats. You can never go wrong with Kimes ball cap!
Lucchese: I already mentioned upping your jeans game, but while you're at it, you may as well up your boot game as well. Lucchese has been in the bootmaking industry for 139, which is why they're referred to as the "King of Boots". With boots ranging from fashion to work boots and of course, your traditional cowboy boots, there is something for any taste. Additionally, you can buy your next pair of boots knowing they will outlast any other pair of boots in your closet.
Flea Style Boutique and Hat Bar: You might be wondering, what in the world a "hat bar" is. It's a new hat concept that I am seeing pop up across the country. Essentially you can book an appointment with a hat stylist to come in, you pick your hat, then your stylist helps you style your hat completely custom to your style. Prices range from $150-$300 depending on the hat you pick. You can also use your own hat and pay $25 to have a stylist help you decorate it.
The Best Hat Store: This is a bit of a walk, but I wanted to mention the Best Hat Store because I have had my eye on the Slate Grey American Hat for ages. Well, I was finally able to get my dream shaped right to my head. If you don't mind spending a little money on a nice hat, then this needs to be your number one stop. The folks inside will get you set up with the color and size that you need, then you pick your crown and brim shape and the hat shaper will get it to fit perfectly to your head. American Hats are some of the best on the market and they come HIGHLY recommended.
Cavender's: Forget your nice western blouse at home? No sweat, just down the street from Mule Alley is Cavender's Western Wear where you are sure to find anything you need to complete your outfit. From boots to jewelry, to blouses and jeans, Cavender's is the best place in the Stockyards to grab what you need.
More shops include Ariat, King Ranch, Wrangler, Old Gringo Boots, and Double D.
Other Stockyards Attractions
Like I've mentioned before, just when you think you've made a good dent in seeing everything the Stockyards have to offer, there is still more to do. One thing I didn't get the chance to experience was the John Wayne Experience. If you are a fan of John Wayne, then this immersive attraction gives you a firsthand look at the life of John Wayne. Catching a rodeo at the Cowtown Coliseum is an absolute must if you're planning on being in the Stockyards on a weekend. Coming this fall, Tim Love has his sight set on opening a new music hall called Tannahill's Tavern and Music Hall. I am SO excited about this because currently, the only true music hall in the Stockyards is Billy Bob's. Stay tuned for more news on that as the opening draws closer.
If you can't tell, I am a HUGE fan of Texas and an even bigger fan of the Stockyards. This travel guide was a blast to put together and it's such an honor to highlight the businesses that are breathing life back into this area that is full of heritage and history. Because that's what this industry is all about, supporting small businesses and the people that make them possible. Stay tuned, you never know where I will be next but if you liked this travel guide to the Fort Worth Stockyards, please let me know and drop your favorite Stockyards spots below!