Fast horses, tough cowgirls, and three barrels, are the components that make up the women's barrel racing event. A fan favorite at rodeos, the women's barrel racing is one of the only events held at most timed event rodeos centered solely around the women and the bond she shares with her horse. Like other timed rodeo events, the winner of the barrel racing can occasionally beat their rivals by only a thousandth of a second. The winner is determined by the speed of the horse, and whether or not it can make a clean run without knocking over a barrel for a five second penalty. While the sport was initially just for the women, men are allowed to compete at specific races. The sport is for people of all ages and levels of experience.
Girl's as young as third grade are competing in the Women's Professional Rodeo Association (WPRA) against veteran racers. The WPRA is the oldest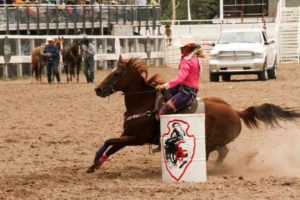 professional organization in the sport. Initially identified as the Girls Rodeo Association, the WPRA started holding sanctioned barrel races in 1948.The National Barrel Horse Association (NBHA) is another key racing organization competed in. The NBHA has a system which allows competitors of varying talent levels to compete together. This inspires both new riders and veteran riders to compete alongside and appreciate the thrilling event. With some competitions having payouts and awards packages greater than $250,000, it's hard not to want to contend.
The sport has come a long way with lots of hard work and perseverance. It wasn't until the year of 1949 that barrel racing was judged off of the shortest time and not off of the appearance of the girl and her horse. This is also the year women were offered prize money instead of gifts such as make-up and hair products. As barrel racing continues to grow in numbers of participation size, it also continues to grow in hearts of rodeo fans who want to cheer on these cowgirls.
CLN Community & Event Sponsor